How to Create a Global Outdoors Page (App Version)
Looking to set up a Global Outdoors page? Fantastic! Our team has worked hard to make sure that the process as simple and hassle-free as possible. If you can use Facebook, you can build your own Global Outdoors page. This article describes how to create a page using the Global Outdoors app.
Step One: Tap the List Your Business Tile
First, tap on the "List Your Business" tile located at the bottom of the Global Outdoors home screen.
This will take you to the business search page. Before you create a new page, we recommend you search to make sure a page for your business has not already been generated. If you wish to skip this step, simply leave the search field blank and tap "Claim or List."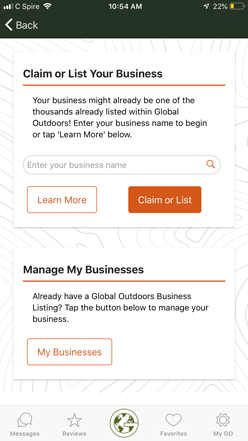 Step Three: Input basic information
Type in the name of your business. If no previous listing exists, tap "Add New Business."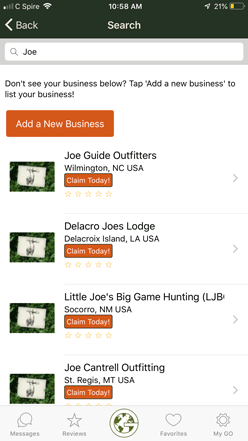 On the next screen, you will be prompted to enter in a brief description of the business and your business's address. These fields are required. If your business has multiple addresses, you can add those by tapping "Add a Location." When you finish, tap the Next button.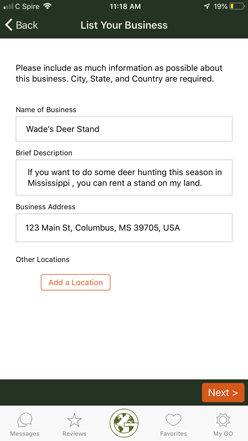 Next, input your phone number you want customers to use and your website (if you have one). These fields are not required. When you are finished tap the Next button.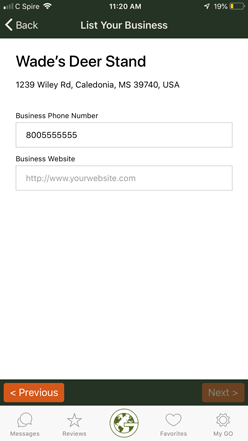 Next, pick your tags. Tags are important. They help customers know what kinds of services you use. Global Outdoors uses two kinds of tags. Badge tags, which are visual cues for customers and are broad in their scope and text tags that are designed to be more specific. Tap all the badge tags that apply to your business and then enter in text tags. For example, if you offer a hunting service you would tap the "Hunting" badge and then type in the various species your customers can hunt.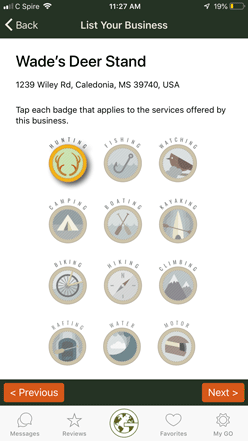 You may then choose to enter in your social media information. Linking to this is a premium feature of Global Outdoors. You can learn more about premium features here.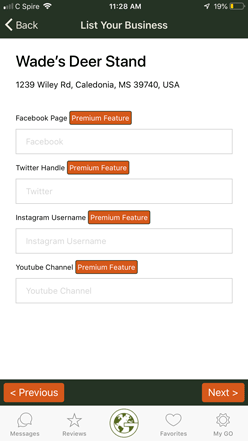 Finally, you have the option of adding photos to your page. If you choose not to enter a photo, your page will display a generic picture based upon the tags you chose previously. When you are finished tap Next to begin the verification process.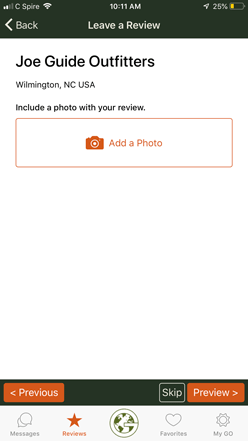 Step Four: Verification
In order to make sure that experiences that are created on Global Outdoors are legitimate and appropriate for the platform, there is a quick verification process that occurs before your Global Outdoors page goes live. After a page is created, a ticket will be generated and sent to a member of the Global Outdoors team to approve (that's right, a real human looks at every single submission to our platform). This is usually a fairly quick process but can take up to 24 hours before your content is published.
Step Seven: That's It!
Now that your page is live you can engage with customers, see their reviews and pictures, and use your Global Outdoors page as the central hub for your business. Your page will appear on the website and on the app. You can edit or modify your page at any time.
Claiming and maintaining a Global Outdoors page is completely free, however, premium subscription plans are available to help turn your Global Outdoors page into something even greater. Click here to learn how taking advantage of our premium plans can help you grow your business even more.